One can perish from exposure to cold conditions quicker than not having water and certainly faster than not having food. It is because of this that keeping warm and sheltering from the elements is one of the most important abilities in a survival situation.
It is times like these when an emergency bivvy could help in getting through such frigid conditions. I have had the opportunity in the past to try emergency blankets out but never an emergency bivvy.
That is why for this article I am excited to try out the TACT Bivvy by Frog and Co. Before jumping into the review let me first briefly state what a bivvy is so that we are all on the same page.
Tact Bivvy 2.0 Hands-on Review
TACT Bivvy Specifications 
This emergency sleeping bag is 84" x 36" and weighs in at 4.7 ounces.
Material
Made from HeatEcho Technology the sleeping bag can reflect up to 90% of body heat that would otherwise be lost to the surroundings.
Elements 
When wrapped inside, the material is wind and waterproof although it should be noted that any condensation within the bag will stay inside.
Extras
The above bag comes neatly rolled up in a paracord drawstring bag. Break the drawstring apart to reveal a piece of built-in fire tinder cord that can be used for starting a fire. Tied off on the drawstring is a 120 Decibel emergency whistle.
Lastly, on the pouch is a small lightweight carabiner for keeping the bag securely attached to packs or belts. This carabiner is not to be used for climbing purposes. 
Features at a Glance 
| Features | TACT Bivvy |
| --- | --- |
| Dimensions | 84" x 36"   |
| Weight | 4.7 oz |
| Exterior Color | Orange |
| Interior Color | Silver |
| Windproof | Yes |
| Waterproof | Yes |
| Heat Reflection | 90% |
| Emergency Whistle | Included |
| Fire Tinder Cord | Included |
---
Tact Bivvy Review: Field Test
Water Test!
The first thing that I wanted to test out was whether or not the bivvy was waterproof as it is advertised. Depending on the result would greatly affect how this product is used. To do this I simply stretched the bivvy out on the ground and poured half of a gallon of water onto it. I allowed the water to pool up and periodically pushed it around with my hands.
After about ten minutes I carefully guided the water from the surface, taking care not to get any of it near the opening. I then reached inside and felt every square inch of the material. The interior was bone dry.
As if on cue, the weather took a turn and it began raining. Perfect for testing!
Staying Warm 
Before discussing this test I would like to note that I conducted this test in a controlled and safe manner.
I decided to take it a step further and took on the role of someone who was wholly unprepared by only wearing a pair of shorts, a t-shirt, a zip-up hoodie, socks, and shoes. Man, the lengths I go to for these tests…
I ventured outside and stood under a shelter out of the rain for about ten minutes to cool down. When I started to become chilled and on the verge of shivering I sat down on a chair and began crawling into the bivvy. I pulled the material up and over my head, leaving my face exposed, and pulled all of the material into a tight clump under my chin.
Since I was already chilled I decided to bounce my legs and feet up and down to get a little exercise and to raise my body temperature. After about ten minutes I stopped moving and sat there listening to the rain for another twenty minutes.
Now I was by no means warm and cozy but more importantly, I was no longer chilled or shivering. While still wrapped up I ran my hand around the inside of the bivvy because I had read reviews of these leaking. The material felt slightly damp but not wet. As the packaging indicates, condensation can become trapped inside. I believe that is what the damp feeling was and not the rain.
Before ending the test I did open the bivvy up and brought the material up and over my face. I DO NOT recommend doing this and I only did it for a few seconds. I felt a temperature difference on my face between the outside and the inside of the bivvy and my glasses immediately fogged up. This indicated that the temperature inside was indeed warmer. I know, if I wanted to be more scientific about this I would have brought along a thermometer but I didn't.
Another factor to consider when using these is to place as much insulation between the bivvy and the surface you will be sitting or laying on. Also, shelter under or around some structure to get out of the rain or wind. I was sitting on a metal chair and could certainly feel the cold metal as well as the cold rain through the material.
The last thing to remember is that these work off your body heat. Do not expect to jump in these and instantly feel warmed up. After crawling inside, keep the opening shut as best as you can and wait.
To recap, I wore inappropriate clothing, while sitting in the rain, with the temperature just above 50 degrees Fahrenheit, for thirty minutes and I was not shivering. I would call that a win in my book.  
Extra Features 
As I mentioned earlier, the TACT Bivvy comes with a few extra items. They are an emergency whistle, fire tinder cord, and a carabiner. I am going to go ahead and take a closer look at each of these items, starting with the whistle.
Emergency Whistle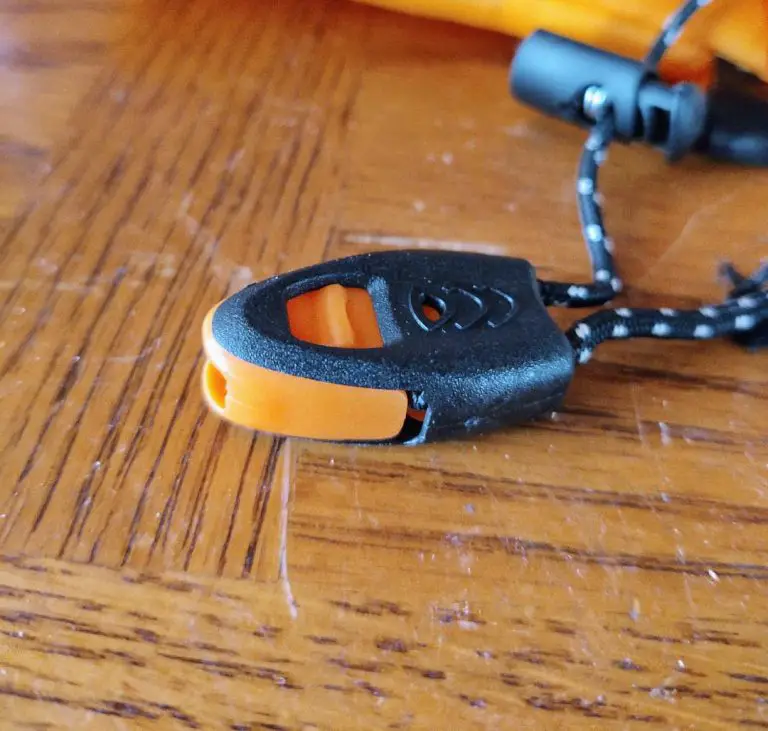 For one reason or another, it took me quite a while to come around to the idea of using an emergency whistle, but once I did I now have more than a few of them.
These often overlooked pieces of gear are great because they can be used to stay in touch with group members when walking through thick vegetation, for scaring away predators and signaling for help.
Don't be fooled by the small size of the whistle that is included with the TACT Bivvy. It packs a punch as it is a 120-decibel whistle. With just a little bit of air, I was able to produce some very loud, sharp chirps that I am sure could be heard from quite a distance away. I think this is a pretty good whistle and am happy it was included.
Fire Tinder Cord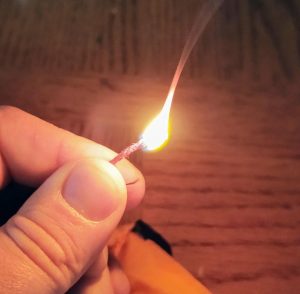 The drawstring on the TACT is a little thicker than normal. Even though there is not much cordage available it is still cordage that could be used in a survival situation.
But another reason that it is thicker is that there is a fire cord in its center.
I took a knife and cut one of the ends of the drawstring and peeled back the black sheath. This revealed a single red cord that can be used to help get a fire going. This stuff works just like a candle wick and once lit, it holds a flame. I tried this out to get a fire going and it worked great!  
Carabiner 
When it comes to carabiners, I am a fan. Remember, the majority of carabiners that people use are not rated for climbing purposes and should not be used in that manner.
The carabiner that is included with the TACT is a light-duty one and should not be used for climbing. Having said that I still like them because they can be used for a variety of purposes, primarily a quick and easy way of securing gear to your person or pack. The included carabiner can be used to attach the TACT to the outside of a pack or if you are in a hurry to a belt loop.
My Video Review
I recorded a video review as well. Check it out below:
---
TACT Bivvy Pros and Cons 
Pros
Lightweight and compact
Wind and waterproof
Can be used as a large signaling device
120 Decibel emergency whistle included
Piece of fire cord included
Carabiner included
Can be used in shelter construction
Affordable
Reusable as long as the material isn't compromised
Can also be used for in constructing a shelter
Cons
Have to be extremely careful not to tear the bivvy material
Customer Sentiments
Generally, most of the customers who have purchased and used this bivvy are happy with it. The majority of the negative comments seem to stem from a couple of issues. The first is that the material is not durable. The second is that when it is raining, it leaks badly. The third is that it is not reusable.
Unless those customers received a faulty product I would like to quickly address those concerns based on my testing.
In my opinion, they are durable when comparing it to how lightweight and thin the material is. When crawling into the bivvy and moving around I like to use the phrase, "move like a porcupine." This is because you do have to be careful. A pointed rock or stick can easily poke a hole through the material. But when I was moving around with tennis shoes on and bouncing the material off of a hard surface, I did not break through it.
As far as the bivvy not being waterproof I would have to disagree. I allowed half of a gallon of water to sit on it without leaks. I submerged the bottom of the bivvy into a puddle, without leaks. And I sat in the rain for thirty minutes without leaks. One explanation for water getting inside is not wrapping the material on the top of the head like a hood and properly securing the rest of the opening. If this isn't done while sitting in the rain, then water will surely run down your head and into the interior of the bivvy.
Lastly, the bivvy is reusable as long as the material is not compromised. Please remember that the packaging states this as an emergency sleeping bag. Therefore it should only be used in case of an emergency and NOT as a recreational sleeping bag.
---
Open Questions…
What is an Emergency Bivvy?
An emergency bivvy is very similar to an emergency blanket or space blanket. The main difference is that the bivvy has sealed seams and resembles a sleeping bag. This allows for a person to be fully wrapped up with only a small part of the body being exposed to harsh conditions.
Why do I need on?
Now, we like to envision survival situations as happening in wild, remote locations far from the reaches of civilization. But that is not always the case. It can be something as commonplace as running a vehicle into a ditch in the middle of a snowstorm five miles outside of town.
When weather and storms become bad enough even emergency services will stop sending staff out. So proximity to civilization does not equal safety.
This is one reason to always have a fully stocked survival or emergency kit in your vehicle. Staying warm in cold conditions can be problematic due to not being able to start a fire, build a suitable shelter in time, not being prepared with proper clothing, or in the case of a vehicle accident not being able to keep the engine running to use the heater.
That's where a bivvy sack comes in handy.
---
Verdict 
I've got to say that after my testing, I do like the overall package of this product. The sleeping bag has ample space, was easy to get inside of, and kept me warm enough. The emergency whistle and fire cord tinder are added perks of purchasing this bivvy.
If you are looking for a lightweight, compact, emergency sleeping bag that will keep you warm, I think the TACT Bivvy 2.0 would make a good addition to any survival kit. Thanks for reading and stay warm!