Being prepared for a food shortage is crucial. The market for survival food is vast, but most of it comprises of freeze-dried and canned foods.
While these foods offer the advantage of long shelf life, getting freeze-dried food has the drawback of needing water to serve.
There's only so much water you can carry or procure in a survival situation, and if you're on the move, there's only so much food you can carry.
The Survival Tabs don't weigh much and don't require water to serve.
But there's a lot more to the food that needs to be discussed before appraising it as a viable replacement for freeze-dried food.
In this post, I will review the Survival Tabs to determine how viable a survival food option the tablets are.
Last update on 2020-12-07 at 22:02 / Affiliate links / Images from Amazon Product Advertising API
Survival Tabs Emergency Food Review
Shelf Life
The tablets are small and lightweight, meaning they are easier to carry around.
More importantly, they offer a 25-year shelf life as long as the packaging is left unopened.
But the company recommends rotating them every three years to ensure maximum nutrition value.
After the packaging is opened, the food will remain edible for 90 days.
The shelf life and ease of carrying make the Survival Tabsan apt choice for most survival situations.
Usage
You must take one tablet per hour for up to 12 hours a day. You can eat more than that without worrying about your health, but you will likely need to ration them out in a survival situation.
If the situation is terrible, you must take a minimum of six a day – which works out to one tablet every two hours.
Eat only one tablet at a time, and if possible, take a sip of water after swallowing every pill.
You cannot rely on these tablets as your primary source of energy. The tablets will only save you from starvation temporarily and help you survive for longer.
But you will likely need to hunt or gather more food if you want to keep going.
Storage
You can store these in extremely cold conditions without worrying about shelf life. But the tablets cannot handle sweltering conditions.
Try to keep them out of direct sunlight – the tablets will melt.
Packaging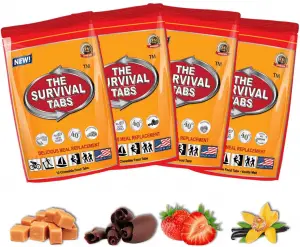 The Survival Tabs are available in small pouches. You can find them in 2-day, 4-day, 8-day, and 10-day packs. Each pouch has 24 tablets.
The tabs are also available in bigger bottles that have 15 days' worth of food. A bottle has 180 tablets, and you can also find a pack that has 60 days worth of food (4 bottles).
Ingredients and Nutrition
The ingredient list is a little complicated, but this isn't surprising considering that the tablets are meant to be an all-in-one nutritional solution.
Reading the ingredient label, all I gather that is important is that the tablets contain non-fat dry milk solids, meaning the tablets have lactose in them. If you are lactose intolerant or have a dairy allergy, this is not the right food for you.
According to the company, 60% of the tablet's content by weight is carbohydrates, 25% is fats, 5% is vitamins, and 10% is protein.
Each tablet only has 20 calories – and eating 12 a day will give you 240 calories.
The body burns between 300 and 500 calories when you sleep naturally.
If you don't move and only eat these, you may survive for a week, but you will become weak.
These tablets can only save you from starvation as you look for other sources of energy. Do not get these if you're expecting to get through a survival situation by solely relying on the tablets.
You must either hunt or keep a stash of freeze-dried food ready along with these tablets.
Taste
The Survival Tabs are available in four flavors: butterscotch, chocolate, strawberry, and vanilla malt.
I half expected the Survival Tabs to look like toffee when I first saw the flavors.
But I'm happy to report that the tablets taste pleasant and have a somewhat definitive flavor.
You can tell the difference in energy levels after you eat one, and these will undoubtedly help you feel a little full.
---
Survival Tabs Emergency Food Pros and Cons
Pros
Inexpensive
Taste good
Easy to carry
Excellent shelf life
Can be stored in icy conditions
Cons
Not enough nutrient value
Contain lactose
Melt in hot conditions
Last update on 2020-12-07 at 22:02 / Affiliate links / Images from Amazon Product Advertising API
---
What People Are Saying…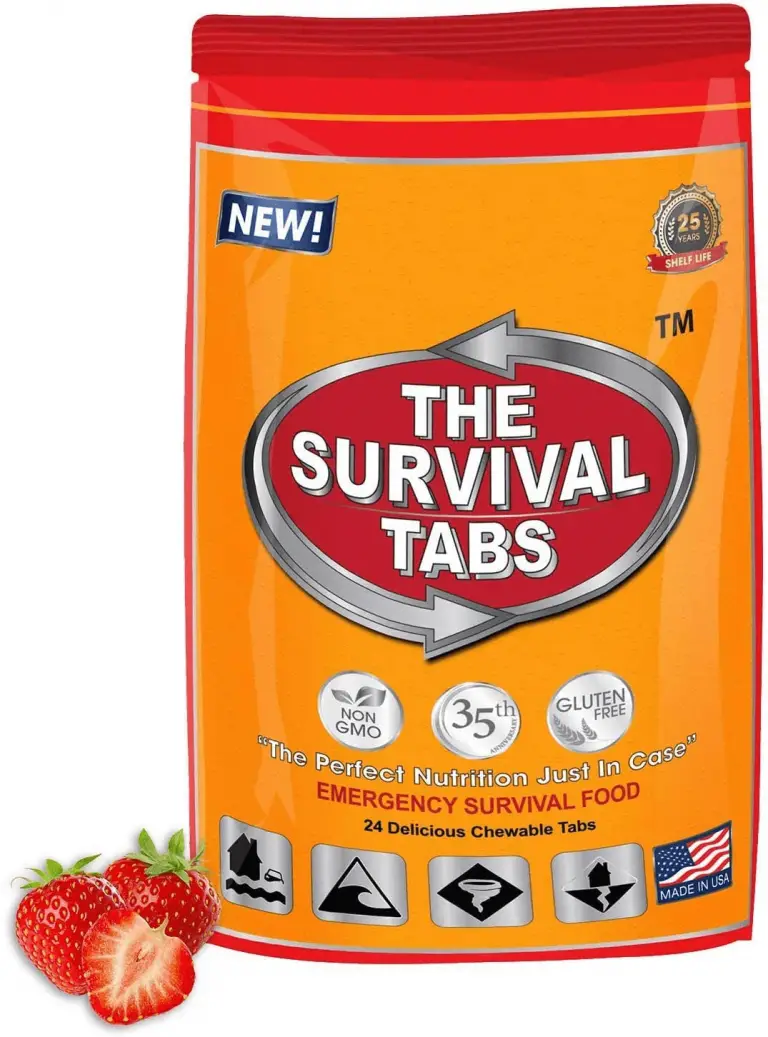 Customers realize that in a survival situation, something is a lot better than nothing. Most customers purchase these tablets to expand their food choices in their pantry for emergencies.
Some customers cannot tell if the tablets taste like the flavor, but no customer complains that the pills taste unpleasant.
Customers are also happy that the tablets are inexpensive. Since the tablets pack enough essential nutrients, these work out a lot cheaper than freeze-dried food.
---
Questions About Survival Tabs Emergency Food
Q: Are the Survival Tabs individually wrapped?
A: No, the tabs are not individually wrapped.
Q: Do the tablets contain lactose?
A: Yes, the Survival Tabs contain lactose.
Q: How hard are the tablets?
A: They're a little like rock candy. They will need to soften and dissolve in the mouth before you can break them up.
---
Verdict
It's difficult to say how I'd feel if I only ate the Survival Tabs for an extended period.
But hunting will burn a lot of calories, and a diet of pills is a lot better than starving. The tablets will certainly help keep you going as you move to a place where you might be rescued or hunt or gather more food.
The tablets offer advantages that other survival foods don't – you can eat them without preparation, and you can carry them around with ease.
Since most freeze-dried food also has a shelf life of 25 years, you aren't making any compromises.
I recommend that you add these to your pantry of emergency supplies since these are easy to carry if you're on the move. But I do not recommend only getting these – diversifying your pantry is essential if you want to make it through a survival situation.
Last update on 2020-12-07 at 22:02 / Affiliate links / Images from Amazon Product Advertising API