In my job as a firefighter and rescue technician, there are times when I need to venture off the beaten path to suppress forest fires or rescue injured hikers. While my crew and I can certainly hike, carrying loads of 50 pounds, it's faster, safer, and more efficient if we can drive ourselves and our equipment up the mountains and through the hiking trails. But rough unpaved terrain has its challenges, and flat tires happen far more often than we'd like. When the inevitable flat tire happens, having the right tools available can not only make life easier, it can literally save the day. One great device I've added to my arsenal of professional tools is a Pro Eagle Jack, specifically the Big Wheel Off Road model. At first glance, this jack looks like an ordinary mechanic's tool with a simple pump mechanism that slides easily under a car. I'm happy to say it's far from ordinary.
Above: The 3 Ton Big Wheel Off Road Jack "KRATOS" by Pro Eagle offers extremely useful enhancements to this basic tool. The partially assembled jack arrives without the wheels, pump handle, and extension mounting bracket attached.
The first visual indicator that this is no ordinary jack are the large wheels, positioned prominently on each side. With the front wheels measuring 6 inches and the rear wheels measuring 8 inches, they do what an ordinary jack cannot — roll over obstacles. Sticks, gravel, and extension cords are no longer an impediment to proper placement of this jack. Another fairly unique upgrade on the Pro Eagle jack is a skid plate mounted underneath. Not only does the skid plate assist the jack sliding over rough obstacles that would hamper an ordinary jack, it also assists in supporting the load when the ground is soft enough for the wheels to sink in. As a load is jacked up and the dirt, sand, or gravel begin to give way underneath the wheels of the jack, the load is picked up by the skid plate, effectively making the entire underside a contact point with the ground. Anytime you're off pavement, this built-in feature is a time and trouble saver.
The second visual indicator that there's something different about this jack are the large carrying handles welded onto the sides. These make lifting the jack in and out of your vehicle a lot easier. When you have to heft a 50-plus-pound hunk of metal anywhere, handles are extremely useful!
Above: The jack ships securely in Styrofoam, requiring some minor assembly.
The third visual indicator that draws your eye to the Pro Eagle jack is the lifting pad extension that's mounted sideways near the pump handle. When you're dealing with high-clearance vehicles featuring oversized tires, it's not unusual for an ordinary jack to run out of lift height before the wheels of the vehicle are off the ground. The available extensions, which come in 8- and 15-inch versions, utilize a twist lock connection to the lifting point to ensure they remain safely in place during operation. While I haven't been able to confirm it myself, I did read several user comments online that indicated that the Pro Eagle Off Road Jack Extensions also perfectly fit some other "standard" mechanic jacks, increasing their versatility and usefulness.
The jack comes partially disassembled in a large box surrounded by Styrofoam. The wheels need to be installed, with snap rings, along with the lifting pad extension mount and the jack handle. When I first read the assembly instructions, I was a little surprised that they required a special tool to properly affix the wheels, namely a snap ring plier. Then, I was happily surprised that Pro Eagle actually included a tiny version of the tool with the jack.
Installation of the wheels was very straightforward until I came across one wheel that wouldn't sit deeply enough on the axle shaft to seat the snap ring. Initially, I thought the nut holding the axle shaft in place simply wasn't tight enough and was preventing the wheel hub from sliding far enough on, but after some internet sleuthing and closer inspection, it turns out that the wheel bearing on one of the wheels wasn't pressed into place quite enough during manufacturing. With the assistance of a 1 1/16-inch socket and a soft-faced hammer, I was able to properly seat the wheel bearing, which in turn allowed me to easily seat the provided snap ring. After this issue was rectified, the remainder of the assembly went smoothly and easily.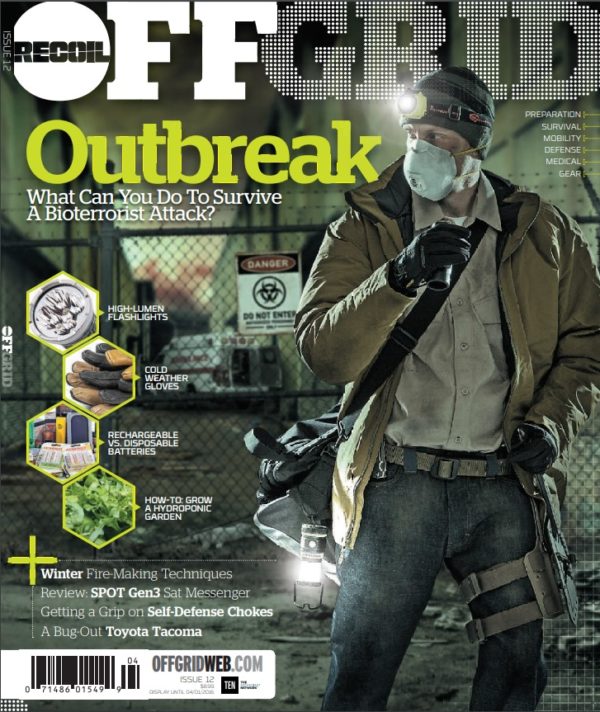 Subscribe Today and Save!
Above: The big wheel Pro Eagle Jack easily rolled over gravel and lifted the entire rear end of a UTV.
Deploying the Pro Eagle Jack
In testing, I made a point to roll this jack over a variety of terrain, from grass to silty dirt to gravel. The Pro Eagle jack tackled all of it with ease.
A wall/vehicle mount is available, as is a 2-inch hitch ball lifting plate for securely lifting a trailer, and several graphic kits (wraps) if you prefer your jack to be red, blue, white, or green. In the unlikely event you need to replace part of the jack, most of the parts are available individually, including a replacement pump, axles, and wheels. There are also two smaller and lighter 1.5-ton and 2-ton versions of the jack.
With a mighty 3-ton capacity, 28 inches of lift, and oversized wheels, the Pro Eagle 3-ton Big Wheel Off Road Jack offers all the features any off-roader could want.
Editor's Note: This article first appeared in OFFGRID #41. 
Eagle

3-Ton Big Wheel Off Road Jack
Weight: 60 pounds
MSPR: $470
URL: www.proeagle.com
---
Off Road Survival Off the Grid? Read More
---
Prepare Now:
Disclosure: These links are affiliate links. Caribou Media Group earns a commission from qualifying purchases. Thank you!
---
STAY SAFE: Download a Free copy of the OFFGRID Outbreak Issue
In issue 12, Offgrid Magazine took a hard look at what you should be aware of in the event of a viral outbreak. We're now offering a free digital copy of the OffGrid Outbreak issue when you subscribe to the OffGrid email newsletter. Sign up and get your free digital copy Click to Download!
---