Self-Reliance
New: Christensen Arms Ridgeline Scout Survival Rifle
The topic of survival rifles is one we've frequently contemplated. As is usually the case with gear, there's no one-size-fits-all SHTF gun solution. For personal defense in urban environments, you might want a short-barreled AR-15; if you want to hunt varmints while keeping a low profile, a whisper-quiet suppressed 10/22 could be ideal. In wide-open rural areas, a precision bolt-action rifle with a magnified optic might be the best option for keeping your family fed. However, it's still advantageous to have a setup that's relatively lightweight and compact so you can stay mobile. The new Christensen Arms Ridgeline Scout rifle is designed to meet this need.
What is a Scout Rifle?
First, a bit of background info: the concept of a "scout rifle" was developed by renowned firearms instructor Lt. Col. Jeff Cooper in the early 1980s. Cooper saw a need for a versatile rifle that could serve as a tool for hunting and self-defense, especially for an individual who might be traveling long distances alone through challenging terrain. His guidelines included a bolt action design, a caliber powerful enough to take down large game (Cooper preferred .308 Winchester), an overall length shorter than 40 inches, and weight less than 6.5 pounds. Many traditional scout rifles also incorporate iron sights and a fixed-power, forward-mounted "scout optic" with long eye relief. However, some modern interpretations have diverged from these recommendations, instead using low-power variable optics (LPVOs) or medium-power variable optics (MPVOs).
For more details on scout rifles, check out this article from our sister publication Gun Digest.
The Christensen Arms Ridgeline Scout Rifle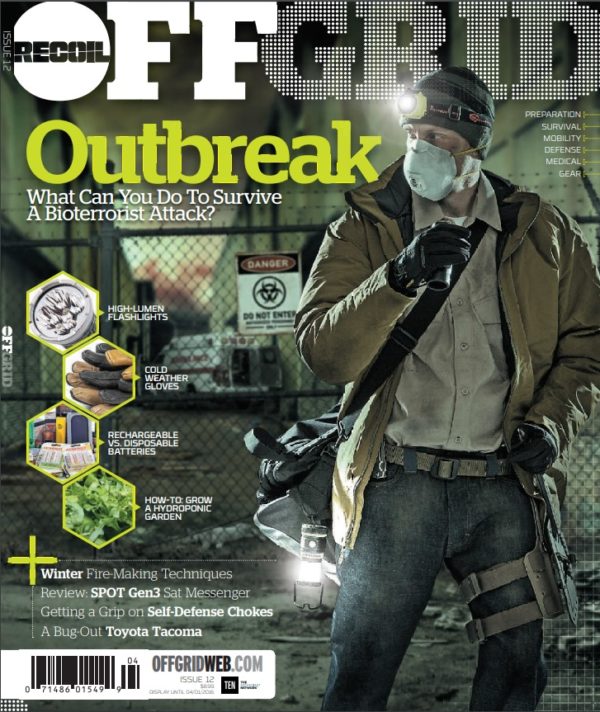 Subscribe Today and Save!
This Ridgeline Scout rifle is a new bolt-action model from Christensen Arms. Unlike the original Ridgeline rifles, which offer barrel lengths between 20 and 26 inches, the Scout features a relatively compact 16-inch 416R stainless barrel wrapped in carbon fiber. This reduces length to 37.5 inches and reduces weight to 5.9 pounds, but still provides for guaranteed sub-MOA accuracy. Each rifle comes with a 3-prong flash hider, but it can be removed to access standard 5/8×24 threads for use with various aftermarket suppressors and muzzle brakes.
The Ridgeline Scout comes with a carbon fiber composite stock, finished in tan with a black spattered/streaked finish. A forward-mounted rail allows for easy attachment of a bipod, and includes a barricade stop for use behind cover. The machined, nitride-finished receiver includes a 0-MOA rail, TriggerTech flat trigger, and AICS-compatible magazine with an oversized mag release for easy reloads.
Christensen Arms is currently offering the following chamberings for the Ridgeline Scout:
.308 Winchester
6.5 Creedmoor
.223 Remington
.300 Blackout (ideal for suppressed use, but not guaranteed for sub-MOA accuracy)
Retail price for the Ridgeline Scout is $2,200. For more information, watch the video below or go to christensenarms.com/ridgeline-scout.

---
Prepare Now:
Disclosure: These links are affiliate links. Caribou Media Group earns a commission from qualifying purchases. Thank you!
---
STAY SAFE: Download a Free copy of the OFFGRID Outbreak Issue
In issue 12, Offgrid Magazine took a hard look at what you should be aware of in the event of a viral outbreak. We're now offering a free digital copy of the OffGrid Outbreak issue when you subscribe to the OffGrid email newsletter. Sign up and get your free digital copy Click to Download!
---