Self-Reliance
Lost Book of Herbal Remedies Review: Worth it for Survival Preparedness?
In today's fast-paced world, we often forget that everything we need to survive exists in nature – including medicine.
It's just that the knowledge of which herbs heal which ailment is buried under the weight of modern medicine as a whole.
Regardless of if you're tired of the side effects of drugs, have been taking pills for years with little to no effect, or just don't want to pay big pharma anymore, learning about nature-derived medicine is an excellent solution.
It will also promote healthier living and prepare you for a crisis wherein the pharmacies run dry, and you cannot refill your prescription.
The Lost Book of Herbal Remedies offers is filled with dozens of remedies, the herbs for which you can find in your own backyard.
And in this review, I'll tell you just how amazing the book is and why every home should have a copy.
What is the Lost Book of Herbal Remedies About?
Dr. Nicole Apelian was only 29 years old when she first discovered that she had multiple sclerosis.
When sharing her heart-breaking story, she reaches out to the viewers and explains how it's in our nature to only value our health when we begin to lose it.
In a few months, Nicole wasn't able to walk and could no longer work.
After struggling with the rapid deterioration the disease causes, she decided to devote all of her strength and research from her Ph. D. into her life's biggest project.
The result of which is her book, The Lost Book of Herbal Remedies, which is co-authored by Claude Davis.
Everything you need to know about natural healing
Although the book's length – 318 pages – may make it seem like more of a manual than a book, let me assure you that it's as easy to read and understand as a children's book.
Nicole takes the time to break down the details behind the properties of dozens of different herbs using simple language.
It reads so well it doesn't feel like you're reading a book about medicine
The book reveals the healing properties of 169 plants, mushrooms, and lichens that you can easily find or grow in your own backyard.
But here's what really makes things easy for complete beginners with no knowledge of plants:
It comes with three high-quality images of every plant
Identifying the healing plants will be a breeze – no need to Google and hunt for the details.
Along with each plant's name and image, Nicole outlines what the edible uses of a given plant are, how you must harvest it, and what healing properties it has.
If you have no plant knowledge – this book is for YOU
It reveals the power of the earth's natural healing powers that manifest in the form of medicinal plants.
Nicole walks you through the uses and applications of remembers step-by-step – you can take things at your own pace.
But what I really love about the book is that if you're looking for a specific remedy and can't remember which plant to use, you can look at the index of the book.
Finding the right remedy possible in seconds
You can search for remedies by looking for the ailment you want to heal.
There's also a lot of depth to the book, which I like. It's titled "The Lost Book" for a reason:
The remedies Nicole highlights in her book were the go-to solutions in the early days.
However, with the ascendence of modern medicine, these remedies have almost entirely been forgotten.
These healing methods are just not as common as before, but their effectiveness remains the same.
Nicole's book is a guide to better health, no doubt; however, it is also a means to carry forward these natural healing methods that have been proven effective time and time again.
---
Features of The Book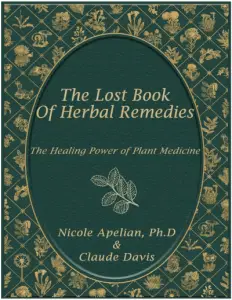 In her book The Lost Book of Remedies, Dr. Nicole Apelian goes into detail about the healing nature of plants.
She also helps readers identify plants that they never knew had any medicinal properties.
The plants are grouped in categories, enabling you to identify them based on location and healing property. This makes identifying a plant so much easier.
Additionally, Dr. Nicole includes three high-quality images of every plant in the book, which makes identifying any plant in your backyard as simple as possible.
But the most impressive aspect of the book is the detail with which Nicole outlines how to prepare a remedy.
She explains how certain plants must be used as a poultice, while other remedies require you to boil or cook the plants.
But it's never confusing.
You will learn the precise way to make a remedy from a healing plant to get the best results.
After you're taught how to prepare a remedy, Dr. Nicole also teaches you how you must use it, and how many times you must use it in a day for maximum healing.
Reading Nicole's book in times of pain is like visiting the doctor. All you have to do is take medicine as instructed, and you'll start to feel better in no time.
But other than helping you heal your ailments, there are several other ways the book will help you. It will:
Safeguard you from health issues.
Teach you to grow and harvest medicinal plants.
Promote an overall healthier lifestyle.
Help maintain blood pressure and keep your diabetes in check.
Prevent inflammation and bleeding, and also help reverse arthritis.
Give you the key to unlocking nature's now-hidden healing powers.
Improve digestion, enhance cognitive ability, and prevent heart disease.
In addition to teaching you how to prepare remedies to prevent health issues like asthma, the book will also reveal which spices you must add to your food.
These spices act as natural detoxicating agents. Using them will boost your immune system and protect you from a range of viruses and parasites.
Some plants highlighted in the book can also help you heal wounds. Several other plans also act as painkillers.
But what impresses me the most are the natural remedies in the book that protect you from hepatitis A, B, and C. The remedies can also help you fight off the infection.
All the remedies in the book are scientifically tested and medically proven – healing from them is not a matter of belief. The remedies actually work!
Also, since the medicine is naturally derived, there are no side effects you need to worry about.
---
Where to Buy the Lost Book of Herbal Remedies
The survival book is not available in stores, which means you will not find it at your local bookstore. The book is available digitally, which means you can download your copy on any device and access it regardless of where you are.
The only way to purchase it is from Dr. Nicole Apelian, the creator herself, from her website.
The 318-page book with 169 remedies and health tips costs only $37.
All of the remedies are medically proven to work. For something that costs only a few dollars more than the average lunch, it adds insane value to your life.
But what surprises me are the bonuses Dr. Nicole includes with the book.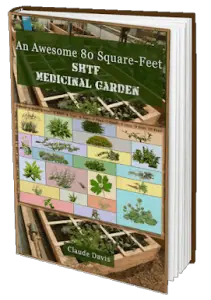 If you buy now, you will get access to two other books from Dr. Nicole:
The 72 Square-Feet Medicinal Garden
Everyday Disaster Medicine Guidebook
The 72 Square-Feet Medicinal Garden shows you the right way to grow the natural remedies you cannot find locally in your backyard.
But the best thing about the book is that it shows you how to grow it all within a 72 square-foot piece of land, which isn't huge.
Regardless of how small your yard is, you should be able to grow herbs for your remedies there.
The second bonus book, Everyday Disaster Medicine Guidebook, details how you can protect yourself from the 20 most common infections and ailments that could affect you during a crisis.
If the pharmacies run out of medicine during a crisis, this book can be a lifesaver.
You learn how to both diagnose and treat ailments.
Three full-fledged guides to home medicine for $37 is a STEAL!
But here's the best part:
You get a 60-day money-back guarantee for the books. If you find the book useful, Dr. Nicole promises to return every cent you spent personally.
---
Verdict
Relying on natural remedies is one of the best ways to heal yourself.
Natural remedies have no brutal side effects like most pills do, and the information about detoxifying spices and the slew of health tips will help you feel better and recover faster.
The aptly-named "Lost Book" is an excellent guide to nursing yourself back to health naturally.
It's easy to read and comes with two bonus books (ONLY for the time being) that will teach you to grow medicinal plants in restricted spaces and heal diseases in times of crisis. It is a book I can unreservedly recommend.