Prepping
How To Use Duct Tape For Survival & Emergencies
SHTFPreparedness may collect a share of sales or other compensation from the links on this page.
Sometimes, the S can HTF in some really odd ways. Though they aren't always a 'disaster,' they can cause some frustration, anger, inconvenience, and sometimes injury. Duct tape uses are almost infinite. And while most of us have read at least one list of what you can do with it, today we'll look at how to use duct tape for survival and emergencies.
Duct Tape Uses
Miles Straume from Lost said: "I don't believe in a lot of things, but I do believe in duct tape.". And I see his point: our family has used it to deal with so many situations, we always have a roll tucked somewhere in the car.
Used extensively by crafters, this handy product is definitely not just for the DIY'ers out there! The tape can be used to repair just about anything from mending a broken fishing pole, to patching up a tent. And you never know when you might just need it in an emergency situation!
The list below is for practical uses around the house:
repairs
making things last longer
and just general good use for this wonderful invention.
Most people know about using this tape to make a splint for an injury. But not many know that duct tape will get rid of warts, too!
Other uses include:
holding broken windows together
making some welding gloves
and of course, the typical boat repair to keep yourself from sinking (while in the water!)
Whether you use traditional duct tape or go for the Gorilla tape, both will serve you well! Each one has strong adhesive and fibers woven throughout the material to avoid unwanted ripping, fraying, and of course, to give the tape more strength!
Do a quick search and you'll see just how many things that people use duct tape for – successfully!
I stumbled across this post and I had to share it with you all today. This miracle stuff was created during World War II when the US military needed a flexible, durable, waterproof tape to use making repairs in the field.
That is something I never knew. I have a roll of duct tape wrapped around my metal water bottle for emergencies but after reading this article I think I may have to add a few more rolls to it and other items like my lighter.
I have seen some impressive things done with duct tape. THIS has to be one of the most incredible things I have ever seen put together using duct tape.
The idea that we could combine these two items and make a buoyant watercraft is mind boggling!
Traversing water is going to be one of the most efficient ways to travel following a collapse. When gasoline is gone and cars are all rusted out the water will still be running. If you can take advantage of that waterway it will change the ways that you can get around.
This article is the how to create this thing. You will be able to create one on your own if you simply follow the directions. I think this is a very interesting little project.
Do not underestimate a serious waterway and its ability to get you from point A to B during a collapse.
Duct tape is the first aid kit of the gear world! See how it can change your life in so many ways today! I found a collection of over 30 projects that you can make out of duct tape.
Some are just for fun or to keep the kids quiet for a while but lots can be used in emergency situations and maybe even save your life. My favorite one is a duct tape water bottle, genius. I also like the above picture project, make a canoe out of duct tape and wood.
Make the most of this cold weather and create something spectacular, have fun and remember, duct tape is awesome, cheap and can be used in so many different ways. Hey, maybe be a scrooge and make some Christmas gifts with it 🙂
Preppers are a crazy bunch. There is no getting around this fact. We get into some silly stuff on our way down the preparedness river. You know what? Experiments and new techniques are very important to all that we do.
This is a very interesting little experiment that you are going to either love or hate. To some, it might feel like a waste of time and to others, it might be something you can use. The more you know the better off you are going to be. That is just the way it goes in prepping.
In this article, you are going to watch a step by step process of how to bury food in the ground with duct tape and clay to protect it. There are some benefits here. Namely, outfitting a bugout location underground rather than carrying everything on your back.
We all know the struggle, packing enough gear for your wilderness expedition without making your backpack too heavy.
Pro tip: lighten the load by packing duct tape, as a replacement for other items that offer limited use. Duct tape has undeniably earned its reputation for its ability to fix just about anything. Its sticky interior and waterproof exterior make duct tape one of the handiest tools you can carry!
A growing concern for backcountry hikers are ticks. Using duct tape to seal your socks to the opening of your pants can prevent ticks from making their way to your bare skin. This is just one of the many uses of the miracle tape that includes fixing yourself, repairing your gear, and protecting your belongings.
Not convinced? Check out this '"sticky stuff" guide by PartSelect blog that details 15 ways duct tape can help out in a pinch, along with how to effectively pack it. It just might convince you to pack a roll on your next outdoor adventure.
Is there anything more prepper than a duct tape dispenser? While this is a design that will not fit into the bugout bag, it may be one of the best things for your workshop or your prepping creations and repairs.
There isn't a checklist or a bugout bag on this planet that doesn't have some lengths of duct tape in it. You have to be honest about the importance of this stuff. It can adhere almost anything and it can even be made into a number of things outright.
This is a fun little build that will be something you will get a lot of use out of if you are a tinkerer or a prepper. It brings to bear the idea of paracord on a roll as well. Instead of getting ahead of ourselves we should focus on this great little build. No prepper can do it all without a little duct tape.
What are the most important parts of the prepper's toolkit? There are many but it's hard to ignore the multi-use functionality of duct tape.
Some preppers wrap it around their Nalgene bottle. Others put a few wraps around a Bic lighter. 
You could also put a tremendous amount of duct tape around the handle of a survival knife. It's all a way of dealing with the need for things like duct tape. A full roll takes a lot of room in a bag and it might even be a bit too much weight to add to your pack. 
All that said, it's important you understand how many survival and EDC uses there are for simple duct tape.
What is EDC?
We all have some sort of EDC. Right now it might only be a cellphone, wallet, keys, and laptop. Some people take it a little further. For starters, the CCW crowd takes a holster and a firearm out the door each day. 
Women are exceptional when it comes to EDC. They have the things they carry every day and it doesn't change. Some even have little spots for pistols in their purse. 
At the end of the day, the EDC is about having what you need to deal with the day. It might be a little more extreme than that but we wanna be prepared, right? 
Duct Tape Fixes Everything
When it comes to EDC duct tape is one of those items that really fixes everything. There are few things that turn up broken that cannot be at least temporarily fixed using duct tape. Not to mention that construct completely new items out of only duct tape. 
You would be wise to include this in your duct tape. If only just a few wraps. It's sure better to have it than to need it! 
Conclusion
The uses for duct tape seem to be endless and can be applied, literally, across all types of people, jobs, and cultures. It would take volumes of space to put all of the ideas and uses for this incredibly versatile product! When it comes to using it around the house or for preparedness and survival situations, the possibilities are mind-blowing!
Say you are out camping and one of your tent poles snaps. Grab a stick and splint the pole with it and some duct tape!
Speaking of splints, you can use this tape and a good branch to make a splint for someone who is injured over their clothing, too. It may not be pretty, but any help in immobilizing the injured area is a good thing.
What about repairing a rip in a tarp? Need a spear? Duct tape your knife to the end of a sturdy branch. The list is huge and can easily grow to be in the thousands for just preparedness and survival situations alone!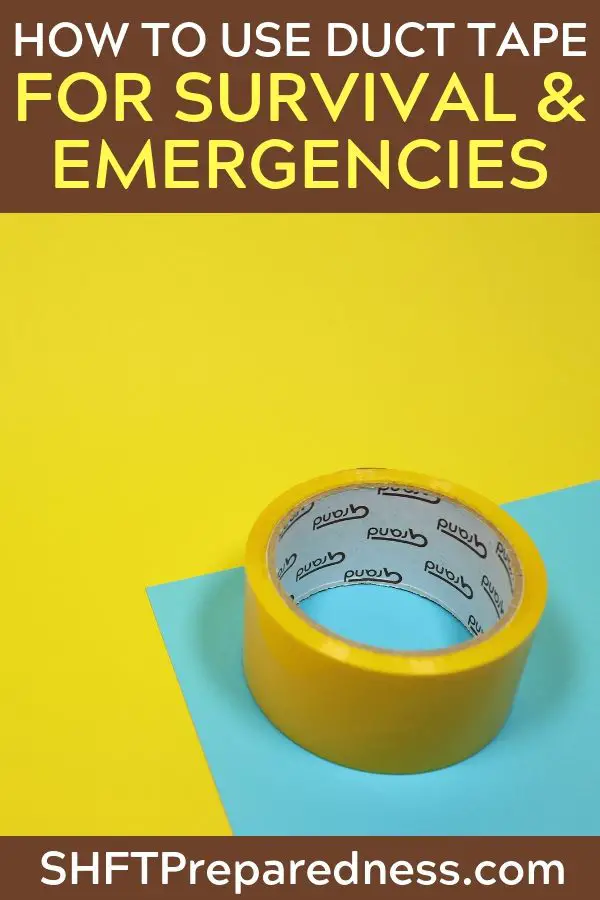 ---
---
Bonus: How to Make Pemmican, the Original Survival Food
Invented by the natives of North America pemmican was used by Indian scouts as well as early western explorers.
Native Americans spent a great deal of time on the go and depended on having portable, high-energy, highly nutritious, and filling foods that would last for long periods of time without refrigeration.
Pemmican is a portable, long-lasting, high-energy food. It's made of lean, dried meat that's crushed into powder and mixed with hot, rendered fat. This makes it one of the ultimate foods to have stockpiled for when SHTF or disaster strikes.
People really should avert their gaze from the modern survival thinking for just a bit and also look at how folks 150 years ago did it.
These guys were the last generation to practice basic things, for a living, that we call "survival skills" now.