Prepping
How to Build a 50 Dollar Greenhouse
SHTFPreparedness may collect a share of sales or other compensation from the links on this page.
Growing food is critical to any version of prepping plans. You know, it is a limited part of your food supply because of the four seasons but, you can affect that. One of the best ways to affect that is to start growing food in a greenhouse. 
Of course, most people struggle with this idea of paying hundreds of dollars or more to buy or fabricate a greenhouse. What if you could build a greenhouse for $50? Sounds pretty appealing, right? 
It's possible. 
We are going to look at creating a greenhouse for just $50 in this article. If you are interested in a list of ingredients, this is what you need. 
What you will need!
Each      Qty    Total
$4. 23   6        $25.38           20′ x 3/4″ PVC schedule 40 plumbing pipe
$6.70    6        $40.20           1x6x8′ pt – ripped into 1x3s
$4.99    4        $19.96           8′ steel "T" fence post
$2.18    3        $6.54             2×4 stud – rip into 1x2s
$3.97    2        $7.94             1x4x12′ pt
$5.73    1        $5.73             2x4x16′ rip into 2x2s
$7.91    1        $7.91             20′x1/2″ re-bar – cut into 18′ lengths
$4.88    .75     $3.66             8″ nylon wire ties – 100
$5.47    .5       $2.74             1 1/4″ x 1lb drywall screws
$6.97    .3       $2.09             16 gauge galvanized utility wire – 200′ – for X braces
$2.97    .25     $0.74             3/8″ t-50 staples – 1000
$79.00  .22     $17.38          20′ x 100′ x 6 mil clear plastic
These materials can also be had on craigslist or yard sales. If you can find a number of these items elsewhere it will also affect your overall cost. The idea behind the $50 greenhouse has a little to do with how you source your materials, as well.
This greenhouse is a union between PVC and wood. It's a great design and the thicker mil your cover the more durable the greenhouse will be. For some of you, this list of materials looks a lot like a simple blueprint. You can see how these materials come together if you have that kind of builder's background.
For the rest of you, don't fret. You see, I also have a great list of steps for you to follow. This will walk you from the start to the finish.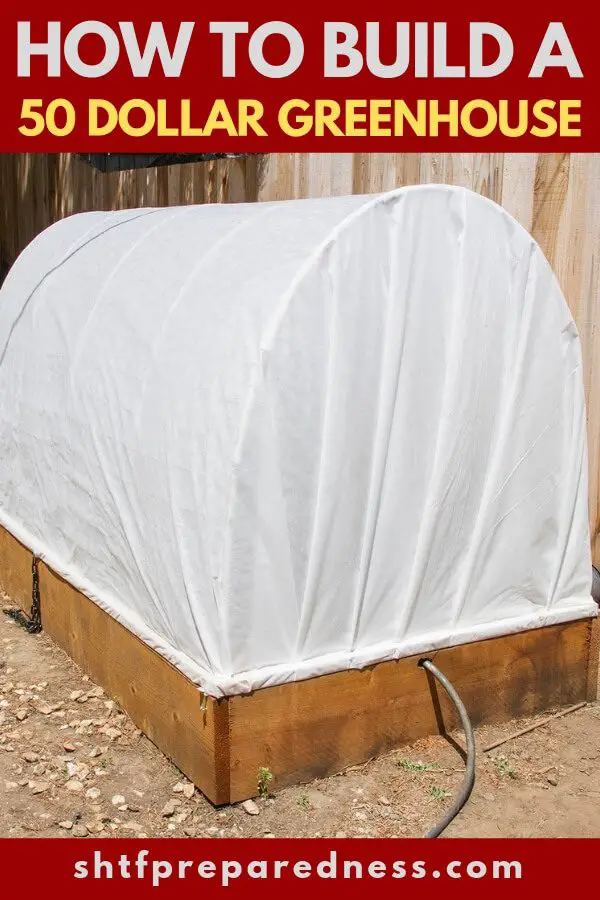 ---
Bonus: How to Make Pemmican, the Original Survival Food
Invented by the natives of North America pemmican was used by Indian scouts as well as early western explorers.
Native Americans spent a great deal of time on the go and depended on having portable, high-energy, highly nutritious, and filling foods that would last for long periods of time without refrigeration.
Pemmican is a portable, long-lasting, high-energy food. It's made of lean, dried meat that's crushed into powder and mixed with hot, rendered fat. This makes it one of the ultimate foods to have stockpiled for when SHTF or disaster strikes.
People really should avert their gaze from the modern survival thinking for just a bit and also look at how folks 150 years ago did it.
These guys were the last generation to practice basic things, for a living, that we call "survival skills" now.