Walls Outdoor Goods | Angus Worn-In Stretch Light Work Jacket
SIZING: Medium through XXL
MSRP: $90
URL: www.walls.com
With the temperature dropping in most of the Northern Hemisphere, it's time to keep an outer layer nearby. Aside from its unnecessarily long and overly descriptive name, we're quite fond of the Angus Worn-In Stretch Light Work Jacket because … well, it's worn in, it's stretchy, and it's a light jacket that you can wear while doing field work. The exterior's 9-ounce cotton-spandex blend is flexible enough to provide mobility but tough enough for daily duty on a ranch or worksite, thanks to double and triple needle stitching. Plus, it has two snap-closed chest pockets, two handwarmer pockets, one discreet zipper pocket, and one internal zipper pocket. Just note, medium is the smallest size, and it runs kinda large. The Angus straddles the line between workweek attire and weekend relaxing, and we appreciate that kind of versatility.
---
Prometheus Design Werx | Raider Werx Pant 100C
COLORS: Motor Pool Gray, Ranch Brown, Syth Blacks
MSRP: $139
URL: www.prometheusdesignwerx.com
If you're looking for a pant that combines the ruggedness of classic workwear with the cut of something more modern and functional, search no further than the Raider Werx Pant 100C. Designed and manufactured by Prometheus Design Werx (PDW), this garment is made of durable 12-ounce, 100-percent cotton canvas similar to what your granddaddy might've worn in the garage or workshop. But, because it's based on PDW's bestselling Raider Pant pattern, it comes packed with brilliant little touches, including but not limited to delta rings to attach carabiners or chains, front welt pockets, side welt pockets, and a dedicated EDC tool pocket. It's made in the USA using sturdy materials.
---
Appalachian Gear Company | All-Paca Fleece Beanie
SIZES: One size fits most
MSRP: $32
URL: appalachiangearcompany.com
For years, we've touted the benefits of sheep's clothing. But there's another super fabric on the rise: alpaca fiber. Just like wool, alpaca fiber is breathable, odor resistant, moisture wicking, and insulates even when wet. That makes the All-Paca Fleece Beanie an ideal garment for both warm and cold weather, whether you're going for an evening stroll or a backpacking trip. Made from 100-percent alpaca fiber, it's lightweight and packable, letting you stow it conveniently in a jacket pocket or wear it under a cap or helmet, if needed. Though the fiber (and the llama-like mammals it comes from) are sourced from Peru, the All-Paca fabric and all of Appalachian Gear Company's garments are produced in the USA.
---
Tentsile |

Stingray 3-Person Tree Tent
CARGO CAPACITY: 880 pounds
MSRP: $699
URL: tentsile.com
Camping in cold conditions means getting your body off the chilly ground as much as possible with a sleeping bag and a pad. But with the Stingray, you can get several feet between you and the ground. This innovative tent is designed to get you elevated using three anchor points — not just so you can sleep in a portable treehouse, but also to stay protected from insects and critters, as well as wet, lumpy, or frozen ground conditions. It has a unique tensioned anti-roll strap system that prevents you from rolling to the middle or the heaviest side. It also comes with a waterproof rain fly, three side doors, a central hatch, and plenty of mesh pockets to store personal items.
---
Safariland | Model 575 IWB GLS Pro-Fit
COMPATIBLE WITH: A variety of popular models from Glock, Sig Sauer, and Smith & Wesson
MSRP: $55
URL: safariland.com
We prefer friction-lock carry holsters, even if there's no additional retention other than the omnipresence of gravity and the pressure of the holster squeezing the gun in place. But the 575 has an intuitive design that's easy to use under pressure. Safariland's GLS (Grip Locking System) locks your pistol in place and doesn't release until you push it with your middle finger, which happens naturally when you grab the pistol grip. But we're bummed that its shallow J-hook clip design doesn't provide the best hold on our belt, and it rides high on our beltline. On the plus side, it has an adjustable cant and is made of a proprietary nylon blend that won't warp under extreme temperatures.
---
ESS | Crossbow Gasket
COMPATIBLE WITH: Crossbow and Crossbow Suppressor Eyeshields
MSRP: $35
URL: esseyepro.com
Eye protection is essential for keeping your peepers safe from flying shell casings. But what do you do on a windy day if dirt gets in your eyes? Or maybe you're sanding down a home project and sawdust flies in your face? It's time to bust out the ESS Crossbow Gasket. Sold separately, the Crossbow Gasket can be attached to ESS's Crossbow lineup of eye pro to provide a tight seal between your face and your lenses — basically transforming your eyeshields into goggles. It protects against dust, wind, and airborne debris, and is approved by the U.S. Navy for use by rotary wing aircrew. Plus, the Gasket has two modes: closed (completely sealed) and open (for ventilation).
---
Hawke | Vantage 30 WA 3-9×42
WEIGHT: 1.24 pounds
MSRP: $279
URL: us.hawkeoptics.com
In an ideal world, all of our rifles would be outfitted with top-of-the-line glass from Leupold, Trijicon, and Vortex. But if that were true, we'd have no money left over for food and mortgage, let alone ammo and survival supplies. Hawke's Vantage 30 WA 3-9×42 offers solid performance and sturdy quality for a price that won't break the bank. The fog-, shock-, and waterproof scope is nitrogen purged and has 11-layer fully multi-coated lenses, 30mm aluminum monotube chassis, high torque zoom ring, and a fast focus eyebell. It features a .223/.308 marksman reticle (9x) that has a prominent center cross and 100-yard markers glass etched for easy reference when determining hold-over aim points (out to 600 yards).
---
Icon LifeSaver | Cube
CAPACITY: 5 liters (1.32 gallons)
MSRP: $125
URL: iconlifesaver.com
Any athlete, Boy Scout, or survivalist worth his or her salt knows that water is life. But drinking questionable water could equal illness or even death. That's why having a reliable means of filtering out contaminants is key. The LifeSaver Cube is designed to hold a max of 5 liters of dirty water and filter 1.25 liters per minute, resulting in safe drinking water for you and your loved ones — whether you're camping, hiking, or bugging out. According to LifeSaver, the Cube filters out 99.9999 percent of bacteria, 99.99 percent of viruses, and 99.9 percent of protozoan cysts. It also removes chlorine, taste, and odor, and has a filter life of 5,000 liters (1,056 gallons).
---
Leatherman Tool Group | Free K2
COLORS: Crimson, Evergreen, Navy, Slate
MSRP: $80
URL: leatherman.com
Leatherman became a household brand thanks to its pliers-based multipurpose tool. Now it's applying the same spirit of innovation to the folding knife. The Free K2's most prominent feature is the 3.3-inch modified sheepsfoot blade made of 420HC stainless. Though an entry-level steel, it does have good corrosion resistance and is easy to sharpen. It also houses five other tools: awl, pry tool, screwdriver, package opener, and bottle opener — all of which fold into the ergonomic aluminum handle. Sure, it's slightly thicker than most pocketknives at 0.61 inch, but it's not cumbersome to carry every day. Plus, at 4.9 ounces, the Free K2 weighs the same as most other medium-sized folders, but it comes packed with much more functionality.
---
Tuff Writer | Precision Press Series Pencil
COLORS: Various, including Black, Olive Drab, and Red
MSRP: $96
URL: tuffwriter.com
We're fans of Tuff Writer pens because they look like ordinary writing instruments — so they don't usually attract unwanted attention or get confiscated at an airport — yet are built out of premium materials that'll last a lifetime. Best of all, they write smoothly in even the harshest conditions. But if you're a fan of graphite, not ink, Tuff Writer now has a mechanical pencil version of its popular Precision Press Series. Just like its inky predecessor, this 6-inch pencil has a steel tip and clip, a 6061-T6 aluminum body, and a machined bearing cam click-button mechanism. Use the Precision Press Series Pencil to sketch a drawing, record your DOPE at the range, or give a bad guy 0.7mm "lead poisoning."
---
Maglite | ML300LX LED 3-Cell D Flashlight
COLORS: Black, Foliage Green, Urban Grey
MSRP: $100
URL: maglite.com
If you owned a car in the '90s, there's a good chance you kept a Maglite with an incandescent bulb within arm's reach. It didn't just provide illumination; it was also an improvised weapon. Maglite has since added darkness-piercing LEDs to its lineup of classic xenon and halogen bulbs. The ML300LX uses an LED that can throw 746 lumens up to 440 yards. You can switch from spot to flood light by turning the head less than 1/4 turn. It can run for 32 hours on high, 112 hours on low, and an impressive 298 hours in eco mode. Plus, it has four function sets — including outdoor and tactical — that you can access based on your button clicks. It's modern function meets throwback form.
---
Spyderco | Darn Dao
BLADE LENGTH: 10.63 inches
MSRP: $650
URL: spyderco.com
Some might mistake this for a small machete at first glance, but it'll seem more familiar to those who practice Chinese martial arts rather than bushcraft. That's because the 16.27-inch Darn Dao is Spyderco's factory rendition of a rare custom design by the late and legendary knifemaker Bob Lum, who was known for crafting modern masterpieces based on traditional Asian tools. Spyderco meticulously translates his version of the Chinese broadsword using premium CPM 154 stainless steel blade mated with classy G10 handle scales. This flash batch edition includes a leather sheath with integral belt loop and a zippered storage pouch. While not meant to be a bushcraft blade, the Darn Dao could certainly make for an elegant brush-clearing (and zombie head-lopping) tool that's portable and reliable.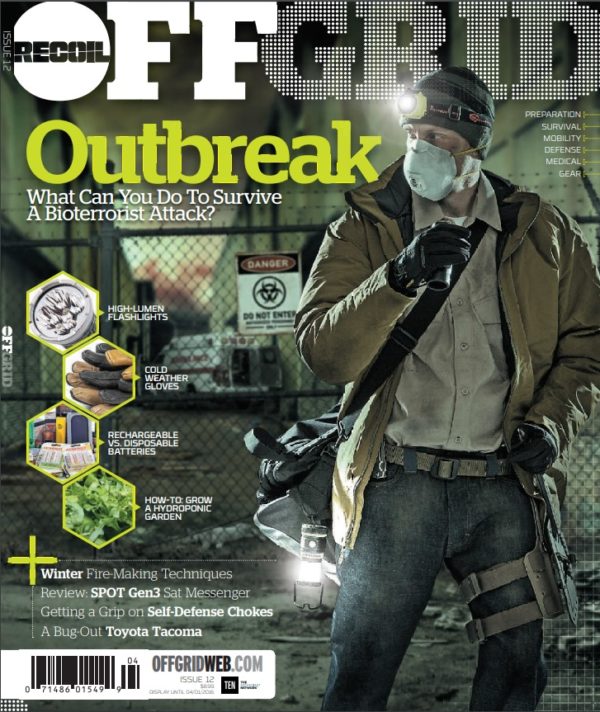 Subscribe Today and Save!
---
Prepare Now:
Disclosure: These links are affiliate links. Caribou Media Group earns a commission from qualifying purchases. Thank you!
---
STAY SAFE: Download a Free copy of the OFFGRID Outbreak Issue
In issue 12, Offgrid Magazine took a hard look at what you should be aware of in the event of a viral outbreak. We're now offering a free digital copy of the OffGrid Outbreak issue when you subscribe to the OffGrid email newsletter. Sign up and get your free digital copy Click to Download!
---