Prepping
Five Food Storage Lessons Learned from WWII
SHTFPreparedness may collect a share of sales or other compensation from the links on this page.
Food storage is a huge part of the prepping experience. In most cases, we are looking to be able to hunker down and really stay close to home in a disaster. 
The idea of bugging out has always presented itself as a worst-case scenario. That is the reality of that situation.
For me, it is much more about having what I need on hand to weather a storm as long as possible. Food storage is a massive part of making that possible.
While many of our food storage lessons are born of the modern-day prepper. We spent more time storing food through history than we have not.
This article focuses on the food storage lessons that could be learned from WWII.
During this time resources were limited and people had to struggle along with the soldiers. That is a decidedly different look than warfighting in the modern age.
Five Food Storage Lessons Learned from WWII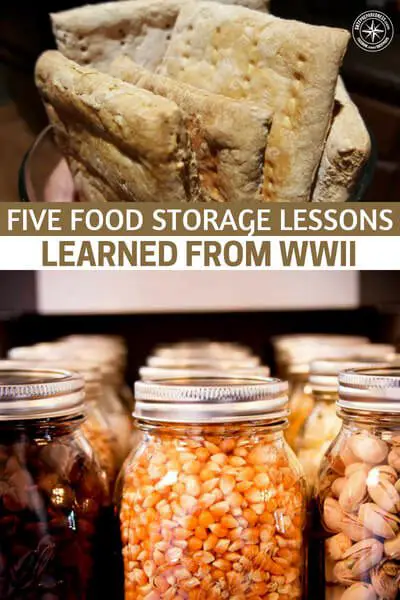 ---
Bonus: How to Make Pemmican, the Original Survival Food
Invented by the natives of North America pemmican was used by Indian scouts as well as early western explorers.
Native Americans spent a great deal of time on the go and depended on having portable, high-energy, highly nutritious, and filling foods that would last for long periods of time without refrigeration.
Pemmican is a portable, long-lasting, high-energy food. It's made of lean, dried meat that's crushed into powder and mixed with hot, rendered fat. This makes it one of the ultimate foods to have stockpiled for when SHTF or disaster strikes.
People really should avert their gaze from the modern survival thinking for just a bit and also look at how folks 150 years ago did it.
These guys were the last generation to practice basic things, for a living, that we call "survival skills" now.