I don't know if any of us have been more ready for a year to be over than we are now. Unfortunately, all signs seem to indicate that the ripple effects of 2020's various crises will spill over into at least the first quarter of next year. As I've said before, this year has set some unsettling precedents about how quickly, and how aggressively, our entire lives can be put on hold because people are afraid of the unknown. Or because people don't want to tolerate opposing ideologies. There's a very good chance that the widespread acceptance of, and lack of consequences for, nonstop months of riots, vandalism, theft, assault, and general disregard for civility will only serve to embolden malicious actors going forward. The idea that large groups of people can commit crimes with impunity, as long as they do so simultaneously on a large scale, will be a tempting proposition for predators from every corner of the political and socioeconomic spectrum.
There's a worrying by-product of this phenomenon. The notion of using lethal violence to solve disputes about ideas is becoming more widely accepted … and advocated … by people who have never encountered such violence face-to-face. I've deployed 14 times to two wars. Outside of that, I've traveled to more than 20 countries on four continents — many of which were plagued by violence, poverty, and hopelessness. These experiences taught me two things. First and foremost: Civil war, armed revolution, and urban guerilla violence create many more problems than they solve. Secondly: Sometimes violence finds you, unsolicited and unanticipated, whether you want it or not. In those cases, you may need to be violent to stop violence. That's why we're taking a hard look at armed self-protection in this issue. Reconnaissance Marine and Special Forces veteran Toby Melville reviews the prolific and generally inexpensive Kalashnikov rifle as an option for survival and defense. If AKs aren't your flavor, Patrick McCarthy reviews the tiny Saint EVAC AR pistol from Springfield Armory, and incorporates it into a high-threat bugout bag in this issue's Bag Drop.
Matt Little, another Special Forces alum and retired SWAT Officer, talks about how to most effectively structure firearms training to build your skills quickly and effectively. Attorney Jason Squires discusses self-defense and personal liability insurance to help mitigate the aftermath of armed self-defense. We also examined some aspects of survival in and around a vehicle. Whether in a parking lot or on an interstate, people are being increasingly targeted in or around their vehicles. Joey Nickischer has contributed two stories in this area, dealing with the Pro Eagle Jack for vehicle recovery as well as a primer on how to respond should you witness an accident or other trauma while you're on the road. Even our What If this issue deals with possible solutions to road rage.
I like to think our purpose at RECOIL OFFGRID is to arm you with knowledge you'll never have to use. Especially at this time of year, a season supposedly meant for peace on Earth and goodwill toward all. In the unlikely event that violence comes your way, always be ready to rescue yourself and your loved ones. Barring that, we wish you safe, healthy, and happy holidays.
Editor's Note: This Letter from the Editor is from OFFGRID #41.
Subscribe Here.
---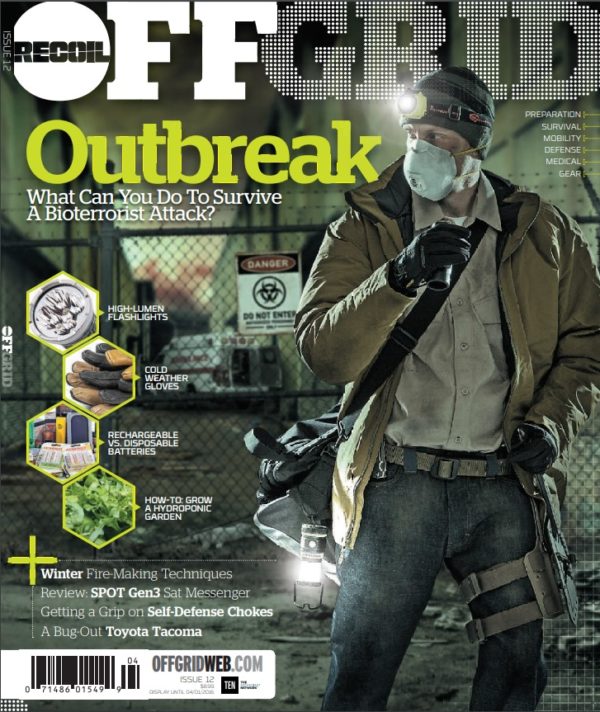 Subscribe Today and Save!
---
Prepare Now:
Disclosure: These links are affiliate links. Caribou Media Group earns a commission from qualifying purchases. Thank you!
---
STAY SAFE: Download a Free copy of the OFFGRID Outbreak Issue
In issue 12, Offgrid Magazine took a hard look at what you should be aware of in the event of a viral outbreak. We're now offering a free digital copy of the OffGrid Outbreak issue when you subscribe to the OffGrid email newsletter. Sign up and get your free digital copy Click to Download!
---