Cardiopulmonary Resuscitation (CPR) is now being taught in schools and offered readily in even the most rural areas. Most people don't have an issue doing chest compressions; however, when it came to mouth-to-mouth breathing, that was always going to be "somebody else's job." Beyond the uncomfortable idea of putting your lips against a stranger's, there's always a risk of that stranger coughing up fluids or vomiting while you're performing the task. Fortunately, two things have made that less of a hindrance for people. First, in 2008, the American Heart Association approved Hands Only CPR (cpr.heart.org/en/cpr-courses-and-kits/hands-only-cpr) to increase involvement of bystanders who might be unwilling to provide rescue breathing. The Second Option is to use a CPR mask when performing rescue breathing. 
Most shields or CPR masks are lightweight, but can be difficult to keep track of on scene. Most people found the pocket masks to be cumbersome, and they weren't carried often by those who were trained in CPR. This perhaps led to the Hands Only CPR as a viable option that didn't seem to alter outcomes. Many purists of CPR believe rescue breathing is still an important aspect of CPR. We looked at several options for those who want to pursue rescue breathing with a barrier between themselves and the victim.
---
My Medic Face Shield
This product provides additional protection for the rescuer by adding both a one-way valve and a barrier filter. A mouthpiece makes it easy to use. Instructions are printed on the face shield. This shield is latex-free and is a one-time-use product. There's no expiration date on the face shield.
Pros:
   Contains both one-way valve and filter
Cons:
  May be difficult to use in inclement or windy weather
---
WNL Products Adult/Child CPR Mask in Hard Red Case
The latex-free Adult/Child CPR mask by WNL Products comes with a hard case, one pair of gloves, a one-way valve, and the mask. This can be used multiple times and comes with instructions on how to clean the product. The one-way valve, however, is disposable and only meant for one-time use. There's no shelf life on the mask; however, the alcohol wipe typically dries out over time and may need to be replaced every few years.
Price: $9.95 on Amazon. Purchase Here.
Pros:
   Better sight line of chest expansion
   More distance from patient
   Fits in cargo pants pocket
Cons:
Placement on victim can take some getting used to
  Bulky to wear on belt
  No oxygen inlet
---
Persys Medical PBVM-C / PBVM-G
The Pocket Bag Valve Mask (PBVM) by Persys is offered in four iterations depending on needs or desires. This is a silicone-based, collapsible, and easily storable pocket bag valve mask. It has many advantages over a simple mask in that it not only includes an oxygen port, but can also deliver 500 to 600cc of air by squeezing the 1.6-liter bag. It's also Positive End Expiratory Pressure (PEEP) compatible (PBVM-NM), for what that's worth. The shelf life is reportedly five years, and this is a single-use product. The PBVM-G (olive) version includes 6½ feet of O2 tubing to be hooked up to a tank.
Pros:
   Better oxygen volume delivery
   Can fit in most cargo pants pockets
Cons:
  Size makes it harder to carry
  More expensive than basic masks
  May be difficult to use if untrained
---
Ambu Res-Cue Key
The mask is latex-free and contains a one-way valve, making it easier to blow through. The instructions are printed on a card, not on the mask. The loops that secure the mask around the ears make this good for a more secure fit and use in inclement weather conditions. It's recommended for both children and adults. This is a one-time-use product.
Price: $10.95 on Amazon. Purchase Here.
Pros:
   Keychain makes it readily available
   Mask resembles surgical mask with ear loops
   Easiest of these facial shields to blow through
Cons:
  Mask is bound with tape and can be difficult to open quickly.
  Instructions on a card, not the mask
---
Laerdal Face Shield
This option is a low-cost, convenient, and effective barrier that reduces risk of droplet exposure. Instructions are clearly marked on the plastic shield. It has a 3M Filtrete hydrophobic filter that's flush with the plastic barrier. It's easy to blow through the filter. There's nothing to secure the shield, so it needs to be held in place. This is a one-time-use product. There's no expiration date; however, the shelf life is listed at a minimum of 10 years.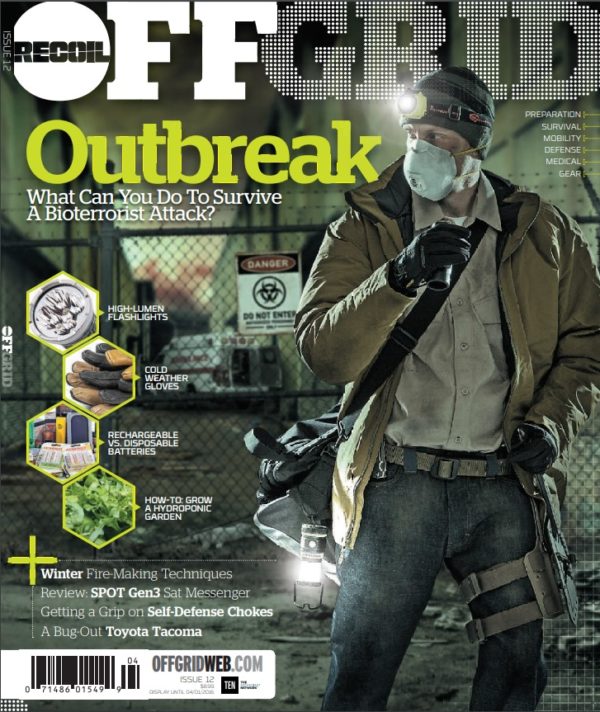 Subscribe Today and Save!
Price: $14.95 for a Pack of 20 on Amazon. Purchase Here.
Pros:
  Portability
  Low cost
Cons:
Difficult to use in wet or windy environments
---
 

READ MORE FOR POCKET PREPS
---
Prepare Now:
Disclosure: These links are affiliate links. Caribou Media Group earns a commission from qualifying purchases. Thank you!
---
STAY SAFE: Download a Free copy of the OFFGRID Outbreak Issue
In issue 12, Offgrid Magazine took a hard look at what you should be aware of in the event of a viral outbreak. We're now offering a free digital copy of the OffGrid Outbreak issue when you subscribe to the OffGrid email newsletter. Sign up and get your free digital copy Click to Download!
---