Self-Reliance
Best Ruger 10/22 Barrel: Top 5 Expert Reviews, Buying Guide
There is no doubt that the Ruger 10.22 is a good rifle just the way it comes from the factory.  Ruger builds a dependable, durable, and accurate rifle ready to shoot out of the box.  However, the Ruger 10.22 has fostered one of the largest aftermarket parts industries of any rifle.  
Many shooters add all kinds of accessories to their Ruger 10/22.  However, most owners overlook the very heart of their Ruger 10/22.  Ruger puts a decent barrel on their factory 10/22 rifles.  If you want to enhance the accuracy and performance of your Ruger 10/22, you must consider replacing the barrel.
There are many aftermarket replacement barrels for the Ruger 10/22.  Before you decide which barrel to buy, there are some things to consider about your shooting activities and what you want to accomplish with a barrel change.  A little understanding and knowledge can ensure that when you do decide on a replacement barrel that you get the best Rugger 10/22 barrel for your needs.
Changing the Barrel on Ruger 10/22 – Why?
The first question is, why do you want to change the barrel on your Ruger 10/22?  What do you want to accomplish?  In many ways, your expectations of what you want from a replacement rifle barrel drives the decision on which barrel is best.  These are some of the questions you should ask before buying a replacement rifle barrel for your Ruger 10/22.
What Kind of Shooting am I Doing?
Obviously, if you are considering a barrel upgrade for your Ruger 10.22, you are looking for better accuracy and performance from your rifle.  Very few people need to spend the money on a barrel upgrade for a rifle used primarily for plinking, weekend target shooting, or for a rifle that serves as a utility rifle in a work truck.
Types of shooting that lend themselves to barrel upgrades…
Benchrest shooting
Match Shooting
Survival hunting
Each of these makes different demands on a rifle barrel and need different characteristics.  We will look at the best Ruger 10/22 rifle barrels for each category plus a couple of other Ruger 10/22 rifle barrels.
---
Best Ruger 10/22 Barrel By Category: My Picks
Best Benchrest Barrel – Shilen 10/22 Replacement Barrels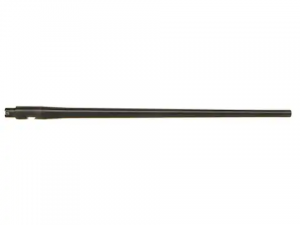 If you are part of the competitive long-range shooting world, you may have heard of Shilen rifle barrels.  Shilen has been building replacement barrels for rifles since 195r5.  From the start, Shilen has earned a reputation for the quality and performance of the rifle barrels they build.
Many long-range competitive shooters swear by the accuracy of Shilen barrels.  Many shooters believe that the Shilen barrel designs, particularly for the Ruger 10/22, are less affected by wind than competitor barrels.
Shilen offers a complete line of Ruger 10/22 drop-in replacement rifle barrels.  For reasons why Shilen is considered the top barrel for competitive long-range rifle shooting, consider that at the 2010 American Rimfire Association Nationals, the top shooter and nine other shooters in the top twenty competitors were shooing Shilen barrels
Technically, Shilen barrels are top of the line as well.
Barrel Grade – Match Grade Only
Materials – Chrome-moly or stainless steel
Grove diameter – .2215"
Twist – 16"
Chamber – Shilen/Bentz design for optimum accuracy in semi-auto rifles
Action – fits Ruger 10/22 rifles
Crown – Target
Shilen barrels are designed and built for bench rest shooting.  These barrels perform best with low to medium velocity target ammunition.  Higher speed ammunition will not gather enough spin to stabilize in most instances. 
Best Match Shooting Barrel – ER Shaw Target Barrel
ER Shaw has been building rifle barrels in the US for over 100 years.   Not only does ER Shaw produce some of the finest aftermarket barrels for all calibers, ER Shaw routinely produces rifle barrels fitted to the factory production rifles of some of the most renowned rifle manufacturers in the world. 
Competitive rimfire match shooting requires a rifle that is accurate across a wide range of conditions and situations.  Depending on what style of match you are shooting, you may find yourself in a prone position during one part of the match, kneeling and standing for other parts.  Some matches require movement and agility.
This type of competitive shooting requires accuracy and a rifle configuration best or the situations.  The best combination of stability, accuracy, and weight is the watchword for these types of competitions.  ER Shaw barrels offer the competitive rimfire shooter choices and features that allow the shooter to find the best combinations for their style of shooting.
18" or 20" 416 R stainless steel
18" or 20" 4140 matte blued
Rimfire length ½-28 threads
1-16" twist
.870: diameter
Match chamber
Bentz style chambers for increased accuracy
.920" bull barrels profile or factory taper profile
Straight fluting or helical fluting available for an extra charge
Muzzle threading includes a thread protector
Like the Shilen barrels, the ER Shaw replacement barrels for the Ruger 10.22 require match grade ammunition.  This ammunition is typically low to medium velocity ammunition.  High-speed ammunition may not chamber in the ER Shaw Barrels.
Best Survival/Hunting Barrel – Tactical Solutions 10/22 X-Ring Open Sight Barrel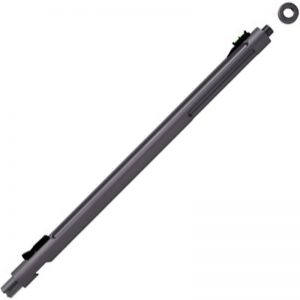 Upgrading your Ruger 10/22 as a survival or subsistence hunting rifle as some unique requirements.  Unlike competition barrels, a subsistence or survival rifle must not only be accurate, but it must also be able to digest almost any ammunition under the most extreme conditions.
One of the biggest problems with replacement barrels for survival situations is the absence of barrel mounted sights.  Under survival conditions, scopes and optics can fail.  Batteries on illuminates scopes will run down.  Any shock may damage a scope beyond use.  A set of good open sights on a survival rifle is critical.
Tactical Solutions offers an option for anyone considering upgrading the barrel on their survival or subsistence hunting Ruger 10.22.  The Tactical Solutions 10/22X-Ring Open Sight Barrel solves many of the problems of upgrading a survival rifle.
Bull barrel configuration with iron sights pre-installed
Machined from 6061-T6 aluminum
Chrome-moly lined bore
Target crown
Flutes barrel design to save weight
Lightweight and easy to carry
Quick target acquisition
Threaded muzzle with a thread protector cap
Pinpoint open sights
Weight – 15 ounces
Length – 16.5 inches
Diameter – .920"
Threads – ½"x28
Twist – 1:16"
The Tactical Solutions 10.22 X-ring open sight barrel is a great upgrade for anyone that wants a Ruger 10/22 that offers pinpoint accuracy with a rugged yet lightweight bull barrel design.  The addition of the iron sights gives you the options you need on a survival or subsistence hunting rifle should your optics fail in a critical situation.
Best Lightweight Rugger 10/22 Barrel – Volquartsen Ruger 10/22 Ultra-Lightweight Barrels
Volquartsen manufacturers a laundry list of aftermarket parts for the Ruger 10/22. Their line of replacement barrels for the Ruger 10/22 is legendary.  For many shooters who upgrade their Ruger 10/22, Volquartsen is their first shopping stop for parts. 
When weight is a factor in the upgrades on a Ruger 10.22, Volquartsen has the remedy.  The Volquartsen Ruger 10/22 Ultra-Lightweight barrel can help you reduce the overall weight of your Ruger 10/22 rifle.  Volquartsen has achieved this feat by using innovative design and the use of modern lightweight, high-strength materials.
Bull barrel profile without the weight
Carbon fiber construction relieves the vibration issues on thin barrels
Tensioning technology eliminates barrel vibration
Lightweight makes the Ruger 10/22 faster to acquire targets
Threads – ½"x28
Chamber – 22 LR
Weight 15 ounces
Stainless steel construction with carbon fiber
Muzzle threads and protective cap included
You should note that the design of these Volquartsen barrels does not allow the barrel to be tapped and threaded for a scope mount.  Any optic mounted on a Ruger 10/22 fitted with a Volquartsen Ruger 10.22 Ultra-lightweight barrel requires a receiver-style mount.
Best Overall Ruger 10/22 Replacement Barrel – Green Mountain Ruger 10/22 Replacement Barrel
If you want to make your Ruger 10/22 shoot better and look a little classier, The Green Mountain Ruger 10/22 replacement barrel is a great choice.  Green Mountain offers a range of features allowing you to customize the replacement barrel for your Ruger 10/22.  For those who do more match type shooting than hunting, Green Mountain offers barrels with a 1:9 twist for subsonic ammunition.
If varmint shooting is your passion, you might choose a Green Mounting barrel for your Ruger 10.22 chambered for the popular stinger high-velocity ammunition.   Either way, you can personalize your Ruger 10/22 with a variety of barrel lengths, finishes, and extra touches such as fluting. Green Mountain barrels don't come up short in the feature list either
Lengths from 16" to 20"
Barrel diameter – .920"
Available with standard 1:16" twists or 1:9" twist for sub-sonic ammunition
Bentz style chambering for the best accuracy with rimfire ammunition
Button rifling
Stress relieve and air gauged
With such a wide range of options, you can find a barrel from Green Mountain for your Ruger 10/22 that will fit your needs perfectly.  From varmint shooting with high-velocity ammunition to shooting suppressed with subsonic rounds, there is a barrel from Green Mounting that will fill your needs.
Best Tactical Replacement Ruger 10/22 Barrel – Tactical Solutions X-Ring SBX Barrel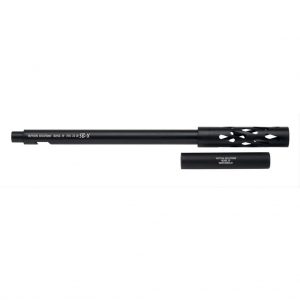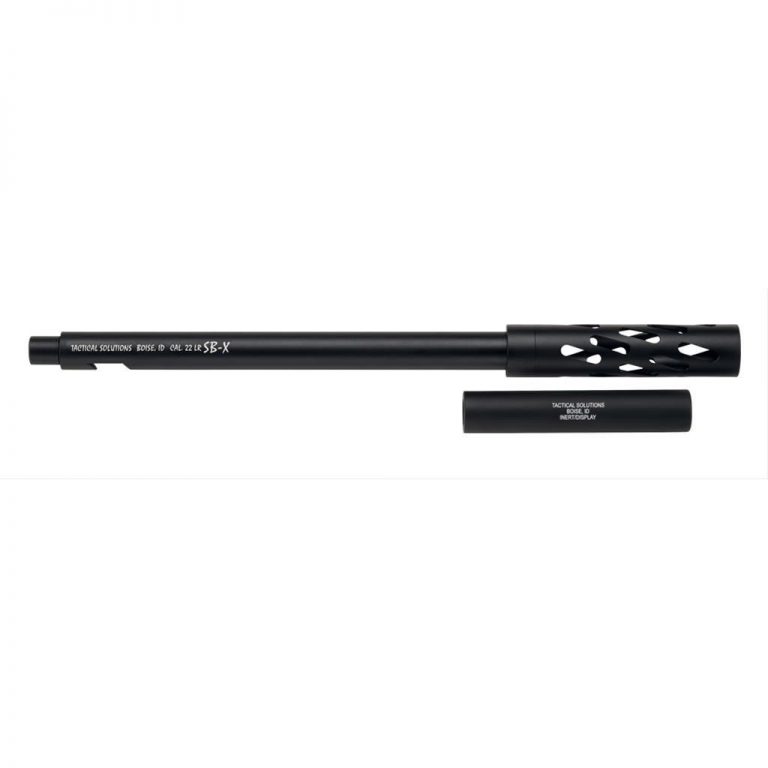 If tactical is the way you want to go with your Ruger 10/22, Tactical Solutions has the answer.  The Tactical Solutions X-Ring SBX barrel is suppressor-ready.    The Tactical Solutions SBX barrel is pre-threaded for a standard suppressor design that incorporates a barrel shroud that allows adding a suppressor to the barrel without increasing the overlength of the rifle.
The addition of the barrel shroud keeps the overall length of the barrel to 16.5 inches.  The barrel shroud means the rifle is legal length with or without a suppressor attached.  The barrel shroud gives the Tactical Solutions SBX barrel a unique profile when mounted on a Ruger 10.22 rifle.
Minimizes overall barrel length even with a suppressor attached
The accurate design promotes pinpoint accuracy
Chrome-moly bore
Lightweight and durable construction
Chambered for 22 LR
Weight – 15 ounces
Length – 16.5"
Profile – bull barrel .920 inches
Barrel Shroud inside diameter – 1.10"
Threads – ½"x28
Twist – 1:16"
If shooting a suppressed Ruger 10/22 rifle is in your plans, the addition of the Tactical Solutions SBX replacement barrel should be on your list of upgrades.  The unique design allows you to keep the overall length of your rifle with a suppressor attached to little more than the standard barrel length.  Weight distribution and balance with this design are much better than simply adding a suppressor to a standard length barrel.
Best Replacement Barrel for the Ruger 10/22 Takedown – Adaptive Tactical Barrel/Rail Combo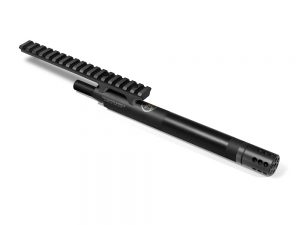 If you are like me, your Ruger 10.22 is a Takedown model and is not compatible with the standard lines of Ruger 10.22 replacement barrels.  However, Adaptive Technologies has a solution for those of us who like the convenience of a takedown rifle.  The Adaptive Technology Barrel/Rail combo package not only addresses the replacement barrel issue but provides some welcome additional features.
The Adaptive Technology Barrel/Rail combo has all the features that most shooters want in a replacement barrel.  Also, the barrel includes a cantilevered rail for mounting optics.  A cantilevered rail mount is especially attractive to many of us who have struggled with mounting optics in the usual fashion on a Ruger 10.22 rifle. 
Adaptive Technologies has not skimped in the features department.
Chrome-moly P4140 Steel barrel
Heat and rust-resistant coating
Barrel shroud of 6061 Aluminum with Cerakote coating
Barrel includes top rail mount and muzzle compensator
Top rail made of 6061 aluminum
Twist – 1:16"
Threads – ½"x28
Barrel outside diameter – .920 inches
Barrel length without compensator – 16"
Barrel length with compensator – 17.25"
Weight – 30.68 ounces
Bentz Chamber
Made in the USA
When I am ready to upgrade my Ruger 10/22 Takedown model, this is the barrel on my list.   The ability to rail mount an optic and move it forward makes the Adaptive Solutions replacement barrel a no brainer choice. 
---
The Barrel Challenge – Making Your Ruger 10/22 Your Own
No matter your end goal when customizing your Ruger 10.22, there is a barrel on the market that can help you meet those goals.  With a little persistence and some thought, you can make the best decision on a replacement barrel for your Ruger 10.22.
I hope that this article has given you some direction and some understanding of how to choose the best Ruger 10/22 replacement barrel to fit your needs.  If you have comments, suggestions, or experiences you would like to share, please use the comment section below.  We love to hear from our readers.