Self-Reliance
A Pelican Case for Rescue Operations: The iM2950 Pelican Storm Case
My introduction to Pelican cases came decades ago when I first started doing rescue work. I was arriving to a training class and spotted a pile of black, hard-sided boxes sitting outside, but there was a problem — it was starting to rain. Thinking that whatever was inside the cases must be valuable and could possibly be damaged by the rain, I quickly found one of the instructors and proclaimed that we needed to get the boxes moved to a dry location.
The instructor came outside and chuckled a little, realizing the equipment I was concerned about was already stored inside Pelican cases. He calmly explained that they were waterproof. When I asked if he was sure the contents would be OK, the instructor said that everything would be fine. He proceeded to grab one of the cases, and deliberately threw it on the ground from chest height, very roughly. It thudded against the asphalt as it bounced and tumbled. He said that nothing short of a tank was going to hurt the contents of those cases. That was quite the eye-opener for me and set the bar for all my future equipment that needed a high level of protection.
Today, I'm talking about the iM2950 Pelican Storm Case. Measuring in at 31.3 by 20.4 by 12.2 inches on the outside, with the inside dimensions about 2 inches smaller, this 3.17-cubic-foot medium-sized case is ruggedly built to take the abuse and protect the contents. It'll keep water out, with its included EPDM O-ring seal, and offers a buoyancy of more than 200 pounds. This is enough to keep most things afloat, should the case end up in the drink. Heck, with that much flotation, you could probably use it as an improvised life raft.
Above: Pelican cases have a long-standing reputation for bombproof durability.
As soon as you pick up this case, you can tell how ruggedly it's built. Weighing in at 20.8 pounds empty, it feels quite solid. The three main handles are chunky and rugged, providing a nice gripping surface that doesn't dig painfully into your hands. There's also an extendable handle and wheels so that you can roll this case like luggage.
There are a variety of interior configurations available directly from Pelican. You can have it completely empty to fill as your needs dictate, or do what is most commonly done — order it with the foam kit. That kit includes six layers of foam, four of which are 2-inch Pick N Pluck. One 2-inch piece is mated to the lid, and the final 0.63-inch pad sits at the bottom. There's also an excellent Trekpak Case Divider System that comes with 7/16-inch-thick rigid panels (walls), steel-locking pins, top and bottom foam, plus a cutting tool. The divider sections are manufactured from waterproof, closed-cell foam that's laminated to a rigid corrugated plastic panel. It's a pretty slick system that works well. With my case build, it uses both the Trekpak system to hold the tablet computer, and the foam kit to pad everything appropriately. If these options don't fit your needs, there's also a padded divider set and utility organizer with a variety of pockets, pen slots, and a business card holder.
Above: With just a drill and some silicone sealant, we were able to modify our case to charge the electronics inside without having to open it up.
With this case, we adapted it to hold 20 of the Grace Industries SuperCell SC500 SM GPS units in chargers, two repeaters, a tablet computer, and the ability to charge all of them with the case closed. The Grace Industries Supercell is a lone worker safety device. What that means is that these devices monitor a worker through a motion detector. If no motion is detected for a pre-selected period of time (ours are set for 5 minutes), the alarm will begin to sound and the other devices in the vicinity will also alert. This lets the other members of the team find and help the solo worker. The 900 MHz radio signal can also be sent to a computer monitoring system that can decode the latitude and longitude position and overlay it with an on-screen map. For my purposes doing technical rescue, which can include building collapse scenarios or lost person searches in a wilderness environment, it's an amazing way to keep tabs on everybody to help ensure their safety.
Above: The foam inserts can be plucked or cut to accommodate a wide variety of equipment.
Most people purchasing a watertight storage box would never dream of doing exactly what we did: drilling a large hole in the side of it to accommodate a 120-volt household plug. But, with emergency services work, we need our equipment to be ready to operate on a moment's notice, and that means ensuring our equipment is fully charged all the time. But don't worry about the hole; it's a simple matter to add gasket sealant around the hole and fill the internals of the plug with silicone sealant, once you verify that everything is working as it should. The silicone will restore the original watertight condition.
The iM2950 Pelican Storm case has five latches to hold the lid securely shut — three on the front and one on each non-hinged side. You would think that these latches would be very tight and difficult to open, but Pelican has a unique Press and Pull latch that locks automatically and opens with the press of a button. I find it much nicer than their legacy latches that require a good slap to close and can take a bit of muscle to open. There are also two padlockable hasps if you need to further safeguard your equipment.
When you need a top-notch case to protect your investment in critical, expensive equipment, Pelican cases deserve your immediate consideration.
---
Make & Model: Pelican iM2950 Storm Travel Case
Exterior: 31.3 by 20.4 by 12.2 inches
Weight: (empty): 20.80 pounds
Price: $253 (no foam); $300 (with foam)
Accessories: Pelican TrekPak Case Divider Kit: $208
---
More on Pelican Cases and Secure Storage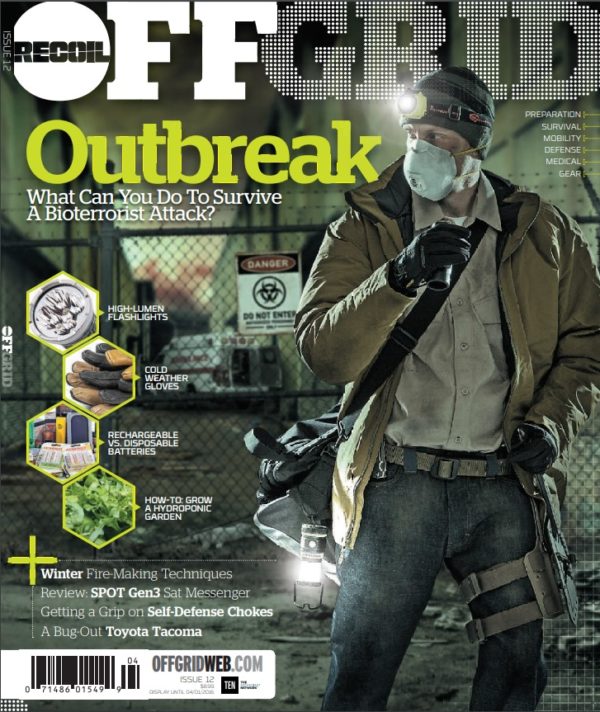 Subscribe Today and Save!
---
Prepare Now:
Disclosure: These links are affiliate links. Caribou Media Group earns a commission from qualifying purchases. Thank you!
---
STAY SAFE: Download a Free copy of the OFFGRID Outbreak Issue
In issue 12, Offgrid Magazine took a hard look at what you should be aware of in the event of a viral outbreak. We're now offering a free digital copy of the OffGrid Outbreak issue when you subscribe to the OffGrid email newsletter. Sign up and get your free digital copy Click to Download!
---